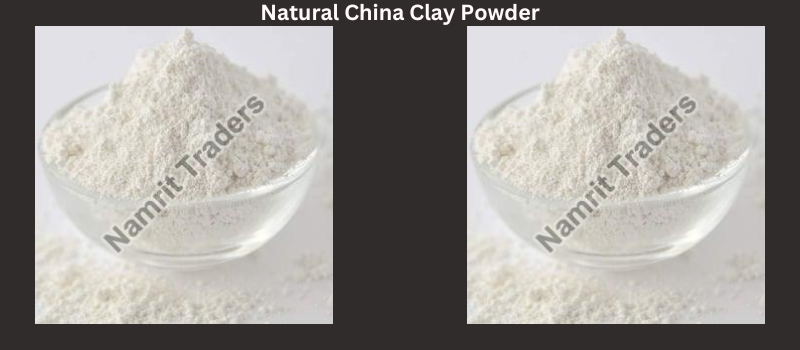 Minerals are widely utilised in many different sectors, and china clay, also known as kaolin, is one of them. It is prized for its distinctive qualities, which include its high alumina and silica content. Additionally, china clay from Natural China Clay Lumps supplier is highly bright and contains little iron. We shall examine China clay's various applications and advantages in this post.


Ceramics -
Ceramics manufacturing is one of China clay's main applications. It is a raw material used to make exquisite china, porcelain, and other ceramic goods. The high alumina and silica content of china clay makes it valuable. Ceramics are made stronger and more durable as a result. Additionally, it has a low iron content, and this helps shield the finished product from fading and other flaws.


Paper -
China clay from a China Clay Lumps Manufacturer is also used extensively in the paper industry. It is a filler that is included in paper pulp to increase the opacity, uniformity, and printability of the final product. China clay is also used on paper to enhance its surface qualities. Applications for it include ink receptivity and gloss. As a result, better printing paper that may be used for books, periodicals, and other printed products is produced.


Paints and Coatings -
China clay is also utilised as a pigment and filler in the paint sector. It is perfect for creating premium paints and coatings because of its great whiteness and brightness. Additionally, it is not very abrasive, which protects the surfaces being painted. Both oil-based as well as water-based paints employ china clay. It works very well to increase the exterior coatings' tensile strength and weather resistance.


Plastics & Rubber -
In addition to these uses, China clay is a filler that is used to rubber and plastic goods to increase strength and durability. Additionally, rubber uses as a reinforcing agent. It aids in enhancing its tensile strength and tear resistance. High-strength plastic and rubber items may be made with the help of china clay. for instance, building supplies and automobile components.


Refractories -
Additionally, high-temperature ceramics as well as metal casting both use china clay as a refractory material. It has excellent thermal stability and a high melting point. These attributes make it perfect for high-temperature uses like kiln linings and furnace insulation.


Cosmetics -
Even in the cosmetics sector, china clay is utilised as a component in face masks and other skincare products. Because of its absorbent qualities, it can effectively remove excess oil and pollutants from the skin. Because of its softness, it may be used on all skin types. Additional uses for Natural China Clay Powder in hair care products include thickening and oil absorption.


Benefits On Offer:
● The adaptability of China clay is one of its key advantages. Due to its special qualities, it can be used in a variety of products, from paints and cosmetics to ceramics and paper. This implies that businesses using China clay might streamline their manufacturing procedures and lessen their dependency on various raw materials.
● The affordability of China clay is another advantage. China clay is a cost-effective alternative for businesses aiming to lower manufacturing expenses compared to other minerals and raw materials. China clay is also extensively accessible, with significant amounts being discovered in nations like China, the United States, and Brazil.
China clay is a mineral that may be utilised in a variety of different industries. Due to its special qualities, it is a useful raw material for several uses. China clay is a desirable alternative due to its inexpensive cost and extensive availability. This is especially true for businesses trying to cut manufacturing expenses.