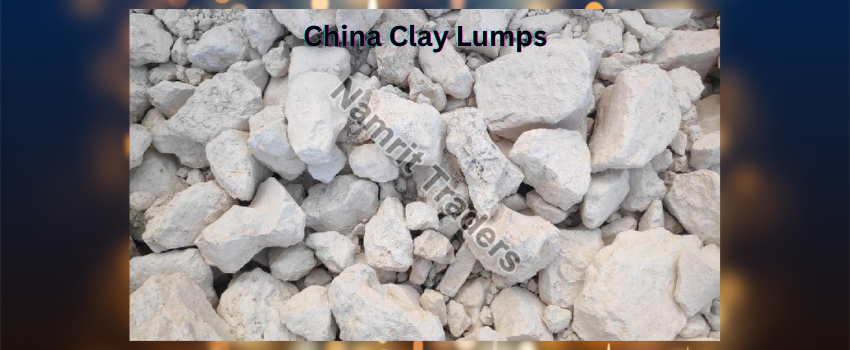 China clay, also known as kaolin, is a natural mineral widely used in various industrial and commercial applications. It is a white, powdery substance composed mainly of the mineral kaolinite. China clay is typically sourced from mines and then processed into different forms, including lumps, for use in various industries.
China clay lumps are large chunks of the mineral that have been mined and then crushed into varying sizes. The lumps is characterized by their fine particle size, high whiteness, and low iron content.
The properties of China clay lumps make it a versatile material that finds use in various applications. They are available in different sizes and forms, and one can buy from reputable Natural China Clay Lumps suppliers.


Know the usage of Natural China Clay Lumps
Natural China clay lumps have a wide range of industrial uses due to their unique properties. Some of the main usages include:
• Ceramic Industry: Natural China clay lumps are an active component in the production of ceramics, such as porcelain, pottery, and sanitary ware. They are used to produce a white, fine-grained clay body which is ideal for making high-quality ceramics.
• Paper and Paint Industry: Also used as a filler and extender in paint production and the paper industry. They improve the opacity, brightness, and smoothness of the paper and improving the paint's hiding power, durability, and ease of application.
• Rubber Industry: They improve the rubber's strength and compression set by being used as a filler.
• Pharmaceutical Industry: They are used as an excipient in the pharmaceutical industry and as a filler in tablets, capsules, and other dosage forms.
• Cosmetics Industry: Used as a filler and thickening agent in the cosmetics industry by improving the texture and consistency of cosmetics such as powders, creams, and lotions.
• Agriculture: Used as a soil amendment in agriculture that improves soil structure and water retention, which can increase crop yields.
• Oil Drilling: They are used as a weighting material in oil drilling and are mixed with water to form a slurry; that helps to balance the pressure in the drilling hole.


These are some of the crucial uses of natural China clay lumps. Due to its unique properties, it finds use in various industries and can be a prime raw material in numerous applications. With reputed Natural China Clay Lumps suppliers, you can have the best quality Natural China Clay Lumps for any of the above purposes.


Tips for buying the best quality Natural China Clay Lumps
While buying natural China clay lumps, ensure that the product is high quality and meets the required specifications. Here are some tips to help you buy the best quality China clay lumps:
• Look for a reputable China Clay Lumps Manufacturer: Make sure to work with a reputable supplier with a good track record of providing high-quality products and reliable technical support.
• Ask for a certificate of analysis (COA): A COA should include information on the product's chemical composition, including its percentage of silica, alumina, and iron oxide.
• Check the size of the lumps: Ensure that these are consistent in size and shape, as this can affect the product's performance in the intended application.
• Request samples: Ask the supplier for a sample so that you can test the product and verify that it meets your requirements. If you deal with a reputed China Clay Lumps Manufacturer, they will surely provide you with samples.
• Check the whiteness and iron content: The whiteness and iron content of the China clay lumps are some factors to consider as it determines the quality of the product.
• Check for any impurities or foreign materials: Make sure that the product is free from impurities or foreign materials that can affect the quality of the product.
By following these tips, you can ensure that you are buying high-quality natural China clay lumps that will meet your specific needs and requirements. Also, research different suppliers and compare their products, prices, and customer service to find the best fit for your needs.